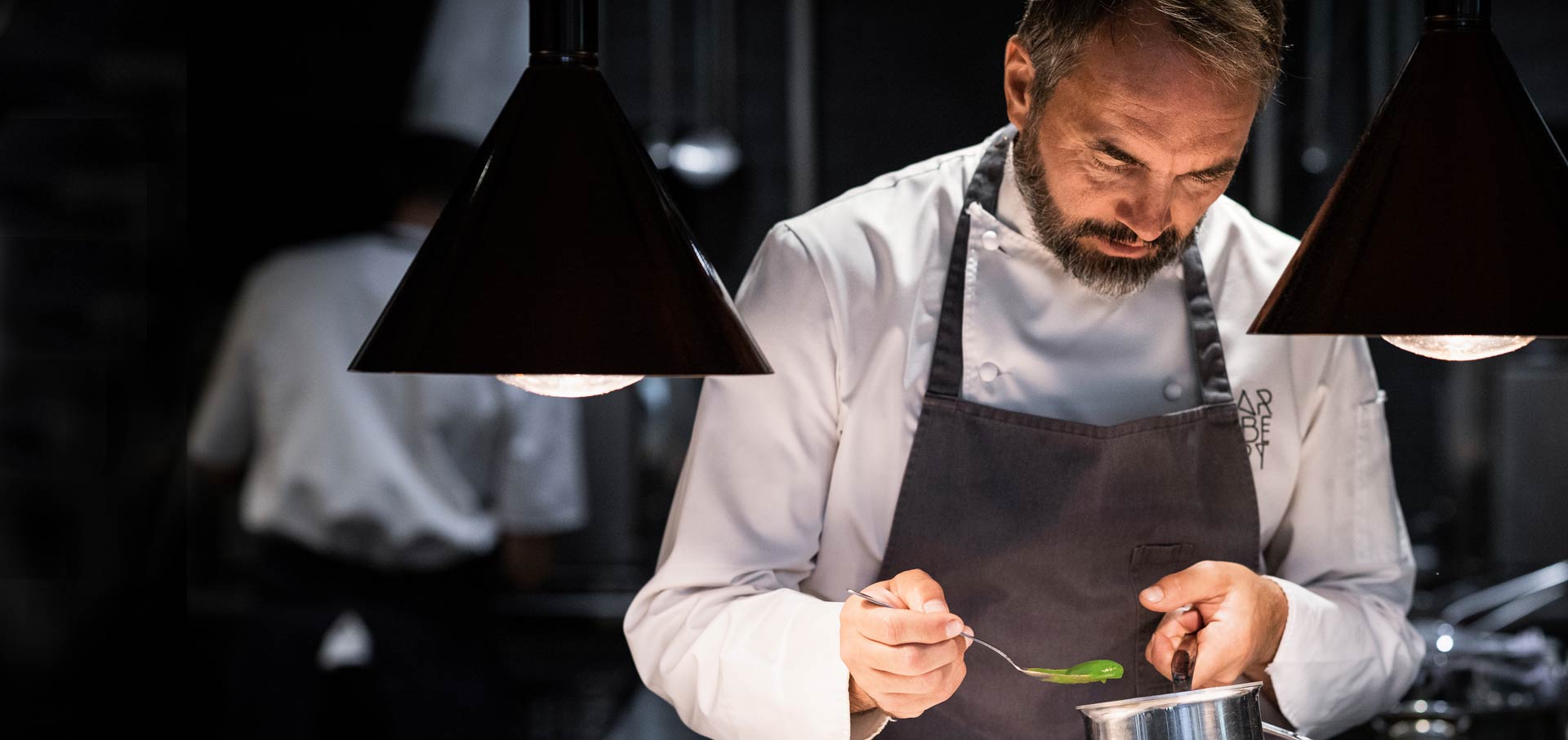 Bold strategy, "green" two stars: the secret recipe of Maison Aribert in Grenoble
Christoph Aribert, a Michelin star chef at Maison Aribert
"I am a cook at heart. This establishment is the starting point for a collective human adventure that goes beyond the doors of the restaurant."
Back to the roots: Two-star chef with a unique restaurant strategy for his hometown
A brilliant career and two stars in the Michelin Guide prompted Christoph Aribert to open his own "maison", a contemporary hotel-restaurant in Uriage-les-Bains near Grenoble. However, he didn't want a conventional building. With thoughts of his local roots and his respect and love for the forests and the mountains of Isère, he had his house designed without compromising the environment. His efforts were rewarded with the ""Green Macaron"" prize in January 2020.
What is it exactly that makes Maison Aribert so special?
Working with the local architect Joëlle Personnaz, Aribert gave the 150-year-old building in his hometown a new lease on life. But the two of them did not just renovate the building. With a bio-climatic design, they made sure that the structure would have hardly any negative impact on the environment. Insulation with wood shavings, collecting spring water, green roof, boiler with pellets, green electricity from Grenoble. Every detail was checked for environmental friendliness, including ecological materials, ethically produced cotton for bed linens, sustainable maintenance products and cleaning agents with a biological basis.
It's no wonder that the master of the house chose sustainable products from Green Care Professional and its parent company Werner & Mertz. The two philosophies fit together perfectly: what Werner & Mertz refers to as the circular economy, Aribert calls simply "home-grown" and "zero waste". The compost heap, for example, is a willing recipient for anything that cannot be cooked.
An almost 100%
environmentally friendly offering
Happy and satisfied customers
Won the "Green Macaron" award